Okay so I don't have much new to say (nor have I had time to post my HG pix, they're still coming, I promise) but I really wanted to brag about my newer LO's.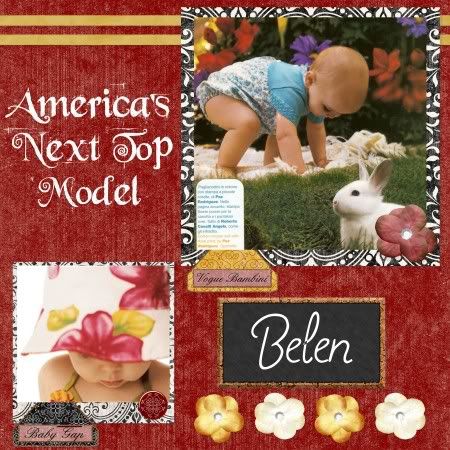 Meet Belen. She's my SIL's niece (her sister's kid). She's absolutely adorable so her mama has every right to sign the kid up for modeling. She's gotten 2 big shoots so far and this LO is the product of them! For this kit go to
http://shabbyprincess.com
and pick up the Dinner Party freebie. Title is in Beyond Wonderland.
I love her work! She also created the kit (Splendid) for this next LO. Dates are written in CK Cursive, "finally meeting" is Scriptina, "Peasy" is the alphas from the kit: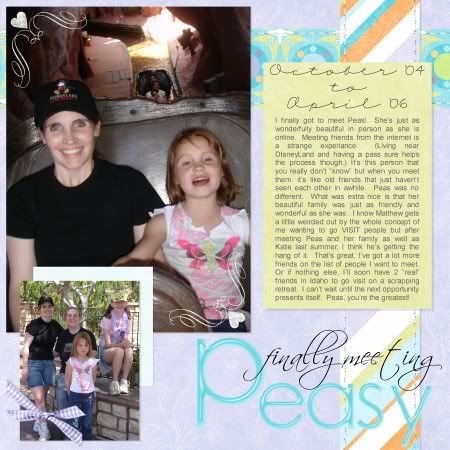 This is my darling Peasy. She's the one that invited me from scrapbook.com to join another chat board that was a lot smaller and private. That board has since disolved but from that site came my beloved ScrappyLand. I've bonded with the women (and token guy) on that board. We've been through hell and back together, and they are considered among my dearest friends. We've dealt with many life issues together: sickness, death, births, child-rearing, job loss and fraud. We cheer each other on in contests and applaud each other's successes. We are a family and I wouldn't give them up for the world.
The art for the next 2 layouts come to you from my dear Sheila. Please visit her site DSFX listed in my faves.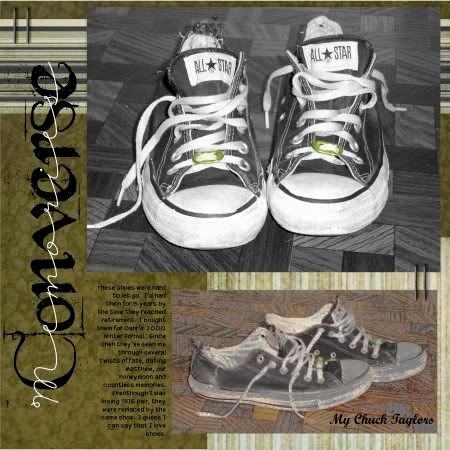 These were my favorite shoes for YEARS. Since I almost cried when it was time to get rid of them I figured I'd better take pictures. The crazy things that occur to only scrapbookers! You can get the paper from this LO from Sheila's Virtues: Compassion paper pack. (Staples are from Shabby Princess) "Converse" font is called Beyond Wonderland, "Memories" is CK Cursive, "My Chuck Taylors" is English.
Those are from the Virtues: Honor paper pack at DSFX. It's my nephew at Disney's California Adventure. I had a lot of fun taking his picture that day. I've also read up on a lot of new techniques I'm dying to try out next time! (See Simply Scrapbooking's Digital #5 for great tips) Title in Walt Disney script, journaling in MA Fishy.
Please feel free to ask if I've forgotten a detail, I'll give you the info!